TLS® Trim Tea is the hottest tea on the market. It has a double-blind clinical study to back it up. Trim Tea is a Black Tea extract and African Mango extract. That's it!
We all live such busy lifestyles and don't take the time for us. Our health needs to be a priority, and for so many of us that means losing weight. The obesity rate is the highest it has ever been in our country. Diabetes is being diagnosed younger and younger. TLS® Trim Tea is a great start to taking your health back. It's a great health product to help get us back on track to make better choices.
TLS® Trim Tea is gluten free. It's a thermogenic slimming tea, has no added caffeine, and is not a diuretic or detox tea.
This tea works to support Leptin sensitivity to manage hunger, curbs appetite and promote weight loss, as well as lower LDL cholesterol, reduce blood glucose levels, reduce fat cell production and reduce CRP levels.
How do you take it? Mix one sleeve with 6 ounces of water, either hot or cold. Suggested 30 minutes before your biggest meal, but not required. You can add more or less water to your taste preference.
How long should you use TLS® Trim Tea? While everyone's body is different, the clinical studies show improvements in a 10-week period.
Would you drink a cup of tea a day if you knew it could improve your overall health for only $1.33 a day?
WellTrim IG Clinical Study Results:
In a 10-week + placebo-controlled study conducted in Cameroon, researchers recruited 120 participants. The group was randomly divided in half, and of the 120 participants, half received 300mg of Welltrim.  The other half received a placebo. They were asked to take their prescribed pill 30-60 minutes before lunch and dinner for 10 weeks.
At the beginning, there were no significant differences found in the weight of the 120 participants recruited for the study.  By the end, however, the same was not true. Significant changes were found in body weight, circumference, and body fat percentages.
The Welltrim® group:
lost 28 pounds

decreased their body fat by 6.3%

decreased their waist by 6.7″

decreased their fasting blood sugar by 22.5%

lowered cholesterol by 26%, and

reduced LDL by 27%!
Resources:
1 WellTrim Study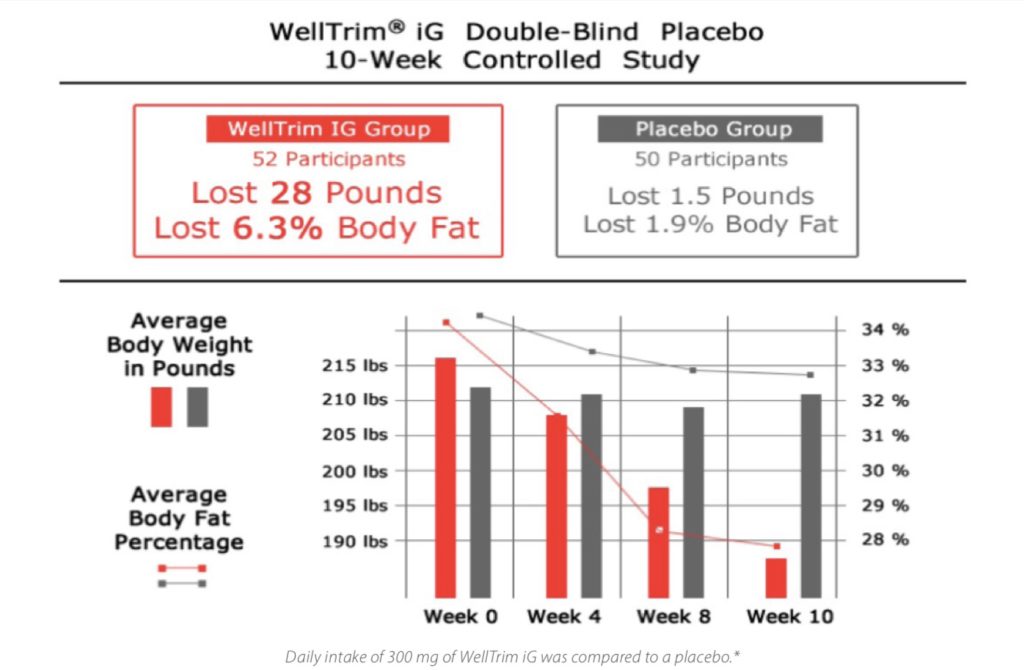 http://thermogenicberry.com/welltrim-study/
As with any supplement, contact your physician prior to starting TLS® Trim Tea.
Sharon Smith with Body and Skin Health – Your Health & Wellness Coach.
Your Health is your Wealth.